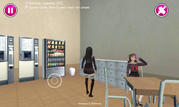 The cafe is a place near to the main entrance of the school.
Not a lot of people go in there, but 
Keishi Onozawa
 always goes in that place from 297 to 190 after school.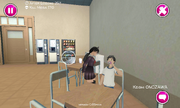 He buys a tin of peach tea.
In the morning, before lessons, Kumi Hideko goes there too and buys a tin of tea.