Teachers are minor characters in Yandere School. They help enforce the school rules of the high school.
When you play as a teacher in Nightmare 2, all the teachers will tell you that they regret drinking too much the last night.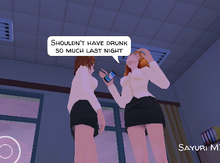 Gameplay
When teachers witness homicide and know Akari is the murderer, she will be apprehended by the teachers, who will induce a "Game Over".